Ad blocker interference detected!
Wikia is a free-to-use site that makes money from advertising. We have a modified experience for viewers using ad blockers

Wikia is not accessible if you've made further modifications. Remove the custom ad blocker rule(s) and the page will load as expected.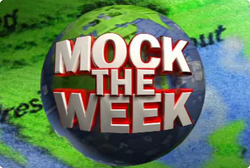 The following is a list of episodes for the BBC 2 satirical panel show Mock The Week, The first episode was broadcast on 5 June 2005. All episodes are 30 minutes long and so far 14 series have aired. As of 16 July 2015, 120 regular episodes, 13 clip show episodes and 6 Christmas specials have been aired; 133 episodes in total (not including the 2011 special, made for Comic Relief). Three hour-long compilation 'Too Hot For TV' episodes have also been released on DVD but not broadcast. In addition, the three DVDs each contain three extended versions of previously broadcast episodes.
The following is a list of episodes, guest panellists and the broadcast details:
    

– Game won by Hugh and Frankie's / Hugh's team.
    

– Game won by Rory's team / Andy's team / Andy and Russell's team.
    

– Game tied.
Series 10
Edit
Series 11
Edit
Series 12
Edit
Series 13
Edit
Series 14
Edit
Series 15
Edit
Summaries
Edit
Hugh
Rory
Andy
Series wins (1 tied)
6
7
0
7
Show wins (2 tied)
62
61
3
58
Series Summary
Edit
| Series | Episode # | Originally Broadcast | Series winner (score) | Notes |
| --- | --- | --- | --- | --- |
| Series 1 | 6 | 5 June 2005 – 10 July 2005 | Hugh and Frankie's team (4–1) | — |
| Series 2 | 7 | 20 January 2006 – 2 March 2006 | Series tied (3–3) | Last series to feature Rory Bremner as a permanent panellist |
| Series 3 | 7 | 14 September 2006 – 26 October 2006 | Hugh and Frankie's team (4–2) | First series to feature Andy Parsons as a permanent panellist |
| Series 4 | 6 | 11 January 2007 – 15 February 2007 | Andy and Russell's team (3–2) | First series to feature Russell Howard as a permanent panellist |
| Series 5 | 12 | 12 July 2007 – 27 September 2007 | Hugh and Frankie's team (7–4) | — |
| Series 6 | 13 | 10 July 2008 – 25 September 2008 | Hugh and Frankie's team (8–3) | — |
| Series 7 | 13 | 9 July 2009 – 24 September 2009 | Andy and Russell's team (6–5) | Last series to feature Frankie Boyle as a permanent panellist |
| Series 8 | 6 | 21 January 2010 – 25 February 2010 | Andy and Russell's team (3–2) | — |
| Series 9 | 13 | 17 June 2010 – 14 October 2010 | Russell and Andy's team (7-3) | Last series to feature Russell Howard as a permanent panellist |
| Series 10 | 13 | 9 June 2011 – 13 October 2011 | Chris and Hugh's team (6-5) | First series to feature Chris Addison as a permanent panellist |
| Series 11 | 13 | 14 June 2012 – 11 October 2012 | Chris and Hugh's team (6-4) | — |
| Series 12 | 13 | 13 June 2013 – 3 October 2013 | Andy's team (9-2) | Last series to feature Chris Addison as a permanent panellist |
| Series 13 | 14 | 12 June 2014 – 9 October 2014 | Andy's team (6–5) | — |
| Series 14 | 13 | 12 June 2015 - 8 October 2015 | Andy's team (6–5) | Last series to feature Andy Parsons as a permanent panellist |
External links
Edit